You must have come across commemorative coins in your loose change – the ordinary circulation coins that recall 10 years of democracy, the presidential inauguration in 1994, the cricket World Cup in South Africa and other milestones in our history. Some people may have saved a few of these coins in the hope that they will be worth a bit in the future.
The R5 coins with the face of former president Nelson Mandela have a special nostalgic appeal, and the most recently issued one was to celebrate his 90th birthday in 2008.
But would you believe it if you were told that one of these 90th birthday coins sold for R2.5 million? Others sell for anything between R50 000 and a couple of thousand rands.
These, remember, are simply R5 coins. There is nothing special or rare about them – more than 22 million were issued by the South African Mint.
But a lucrative trade has developed in which clever sellers convince gullible buyers that certain R5 Mandela coins are extremely rare and are therefore worth a lot of money. Any coins could be sold in this way, but by far the most popular is the Mandela 90th birthday R5, issued in 2008, so this article will concentrate only on these coins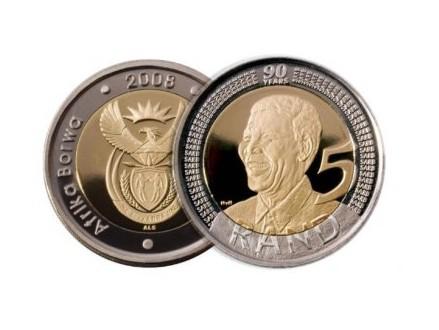 The scheme is very simple to see through if you have a basic grasp of coin grading. It works like this.
First, the seller needs a supply of coins that have never been in circulation, plus a company to grade them and a population report. A population report, or census report, shows how many coins of a particular type have been given a particular grading.
The coins sold for hugely inflated prices have never been circulated, unlike the coins that arrive with your change from the supermarket teller or newspaper vendor. Instead, these coins were bought in their hundreds of thousands direct from banks and the South African Mint. They are then sent to the United States for grading, which, in the simplest possible terms, means an assessment of their features, such as the lustre, appearance and number of imperfections of each coin.
When the coins return to South Africa, each is encapsulated in a Perspex slab that shows which company graded it and what grading it was given. This process is also called "slabbing"
(Visited 9,290 times, 1 visits today)